A couple weeks ago, I came home to this:


"Ummmm... me? Nothing..." You see, if our beautiful Australian Shepard/racing breed mutt isn't brought to the dog park as close to every day as possible, this is what you get. No, walking will not help much- we can walk her an hour a day, and it does almost nothing for her... she needs to run. A lot.

She's pretty good if she gets enough exercise, but her eating-fits are very unpredictable. She's a year and 7 months-ish old, and in the year-plus we've had her, she's only eaten one shoe (only one little strap on said shoe, in fact), but then she pulls out all the stops and does this: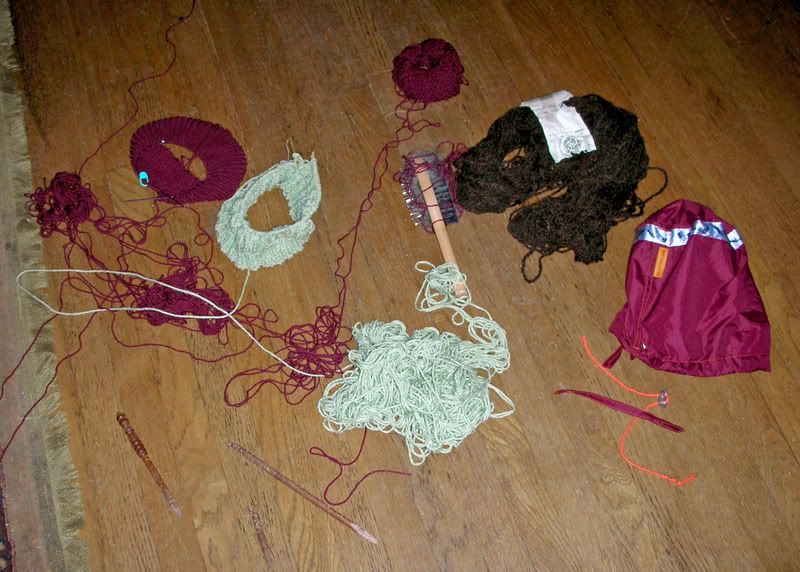 That would be: one ball of Rowan 4-Ply Soft ($9) mostly destroyed, one brand-new customized GoKnit Pouch ($20) that will need major work, one discontinued walnut #11 Brittany knitting needle ($25-50 on Ebay) that just happened to be half of my very favorite needles, one set of #7 Clover 16" circs ($8) destroyed, one Chibi needle case (not shown, $5) destroyed, and an evening spent repairing/rewinding damage.

Not that it couldn't have been much worse, I know, but still. I really, really wanted to strangle her. She's very lucky that she's adorable.