Here's a couple little knits I've done while plodding through/avoiding Sweaterbabe's (beautiful, but horrifically written)
Cables and Lace Kimono
pattern:
The "Little Silk Shrug" from Lace Style: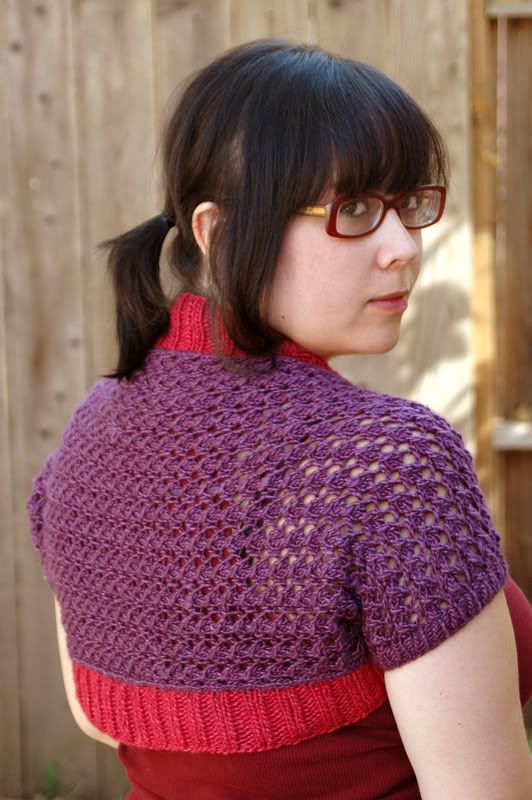 Louisa Harding Grace (50% Wool/50% Silk): 6 & 8
I added the fuschia trim for more... coverage, I suppose, for lack or a better word.
---
And a Slouchy Hat (free pattern!):
Rainbow Swirl Slouch
Antuco in color #11 (100% Cotton): 1-2 skeins (I used exactly one for a 6" lace repeat, but I barely squeaked by)
Matching Elastic (optional)
US #7 and #10 ½ 16" Circular Needles, US #10 ½ DPNs
Yarn Needle
Gauge is not terribly important, as the hat is slouchy.
---
Instructions:
Cast on 68 stitches with the #7 needle. Join for working in the round, work 1 x 1 (K1, P1) ribbing for 3 rounds.

Set-Up Round: *K2, M1 to end. Switch to size 10 ½ needles and work lace as follows:
---
Round 1: YO, p2tog, repeat to end.
Round 2: YO, k2tog (TBL), repeat to end.
---
Work these two rounds until hat measures 6-8", depending on how slouchy you want it- try it on as you go.
---
Next round: k2tog to end.
Repeat this round until 6 stitches are left, switching to DPNs when needed. Cut yarn, thread stitches with yarn needle, and pull to tighten the hole and close top of hat. Weave elastic into ribbing if desired. Weave in ends.
---


Pattern & images © 2007 Jessica Fraser
---
Also, I've added some action pics for the Cloud Bolero and Monet Vest
from the Sept. 7th post... check 'em out, yo.